Just Voices is an energetic community choir based in Ottawa, Canada. We sing songs about social justice, peace and the environment, including songs from many countries. We perform annual concerts and sing at various events to support causes that help to inspire hope, strengthen community spirit and encourage change toward a better world.
Just Voices est une chorale communautaire énergique basée à Ottawa, Canada. Nous chantons la justice sociale, la paix et l'environnement, y compris des chansons de nombreux pays. Nous donnons des concerts annuels et chantons lors de divers événements pour soutenir des causes qui contribuent à inspirer l'espoir, à renforcer l'esprit communautaire et à encourager le changement vers un monde meilleur.
CALENDER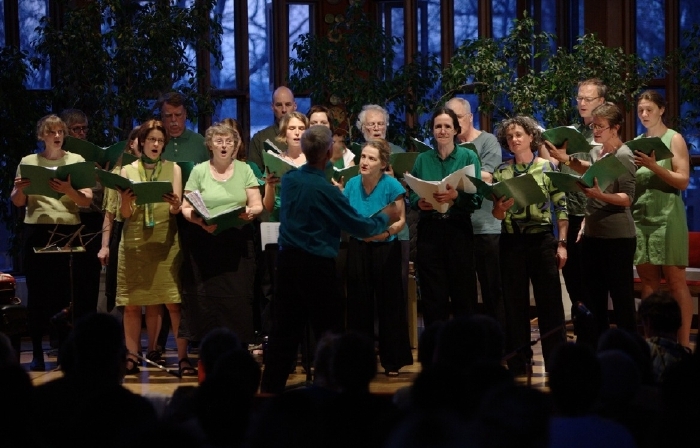 (Above: the choir at our Earth Day show at the Unitarian Church)
Singers wanted!
While the choir varies in size between 15 and 25 people, we are always happy to receive new members. There's no audition process, so just show up at one of our rehearsals and join in. The main requirement is that you can carry a tune, and the ability to read music is helpful, but not essential. Please have at look at our Welcome Sheet (No Practice Page Link, see the practice page for sheet with the link) if you are interested in joining us.
Our recruitment poster
Updated Sep. 18, 2014 Website hosting courtesy of RGB Copyright 2014 Just Voices